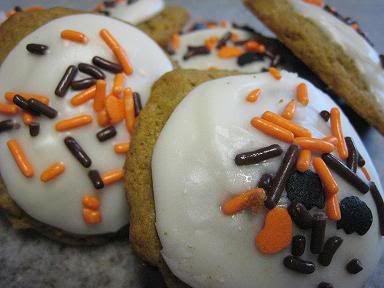 I made these cookies a few weeks ago to welcome fall - and they were perfect! I boxed some up and shipped them to my co-workers in Birmingham, and they stayed fresh for over a week. I highly recommend them! I got them from one of my favorite baking blogs,
My Baking Addiction
- check it out if you want some great dessert ideas!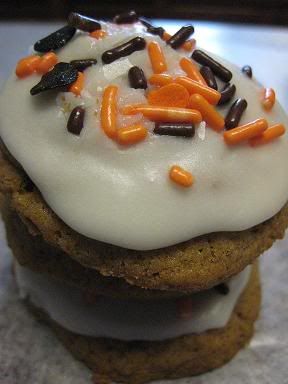 Pumpkin Cookies with Cream Cheese Icing
Adapted from allrecipes
Yield: 24 Cookies
Ingredients
1 cup butter flavored shortening
1 cup unsalted butter; softened
2 cups white sugar
2 cups canned pumpkin (solid; not pie mix)
2 eggs
2 teaspoons baking soda
3 teaspoons ground cinnamon
2 teaspoons pumpkin pie spice
1/2 teaspoon nutmeg
1 teaspoon salt
4 cups all-purpose flour
Directions
1. Cream shortening, butter, white sugar and pumpkin. Add eggs and mix well.
2. Sift together the baking soda, ground cinnamon, pumpkin pie spice, nutmeg, salt and flour. Add to pumpkin mixture and mix well.3. Drop from spoon to cookie sheet. Bake 13-15 minutes at 350 degrees F (175 degrees C).
Cream Cheese Icing
Ingredients
1 (8 ounce) package cream cheese, softened
2 tablespoons butter, softened
4 cups confectioners' sugar
1 teaspoon vanilla bean paste (extract will also work)
2 tablespoons milk
Method
Mix the cream cheese with the butter, confectioners' sugar, vanilla extract, and milk in a bowl. Heat in a microwave for 15 seconds. Drizzle spoonfuls over the cooled cookies and smooth with the back of a spoon or a spatula.