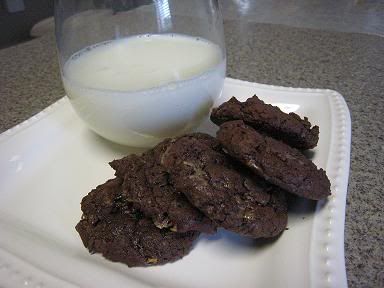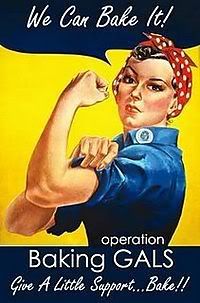 It was once again time to send some cookies to our soldiers through
Operation Baking GALS
and this was one of my contriubtions.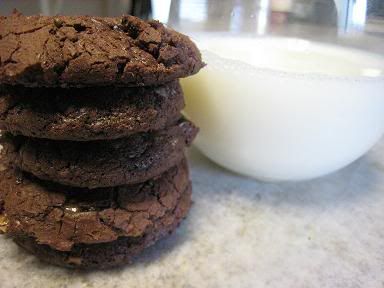 They were AWESOME. Pure chocolatey goodness plus toffee! I brought some to work and people have been asking for the recipe, so here it is! I found this on a blog called
My Kitchen Cafe
who's tagline, "tried and true from my kitchen to yours" fits me perfectly. I'm not one to create new recipes, I'm just good at finding creative recipes and re-creating them. Some are duds, but for the most part I know when things are worth making...
Chocolate Toffee Cookies
1/2 cup all purpose flour
1 teaspoon baking powder
1/2 teaspoon salt
1 pound semisweet chocolate, chopped
(do not substitute chocolate chips since they melt differently; I used chocolate from Trader Joes, but you could also use the bars from the baking aisle)

1/4 cup (1/2 stick) butter
1 3/4 cups (packed) brown sugar
4 large eggs
1 tablespoon vanilla extract
5 1.4-ounce chocolate-covered English toffee bars, coarsely chopped
(I just used the Heath Toffee Bits I found in the baking aisle)
Whisk flour, baking powder and salt together in small bowl. Place chocolate and butter in a microwave-safe bowl and heat on 50% power for two minutes. Stir and continue microwaving in one minute (50% power) increments, stirring after each minute, until chocolate and butter are melted and combined. Cool mixture to lukewarm.
Using electric mixer, beat sugar and eggs in bowl until thick, about 3 minutes. Beat in chocolate mixture and vanilla.
Stir in flour mixture, then chopped toffee bars. Chill batter until firm, about 45 minutes.
Preheat oven to 350°F. Line 2 large baking sheets with parchment or waxed paper. Drop batter by rounded tablespoonfuls onto sheets, spacing two inches apart. Bake just until tops are dry and cracked but cookies are still soft to touch, about 12 to 15 minutes. (Can be made 2 days ahead. Store airtight at room temperature.)
Recipe Source: adapted from The Kitchen Cafe who adapted from Smitten Kitchen originally from Bon Appetit
NaBloWriMo
: Day 16