So my friend Trisha was having a birthday a few weeks back, so I asked what her favorite cake was, to which she immediately responded 'Red Velvet with Cream Cheese Icing'. The issue was, I didn't want to bring a CAKE. I wanted something more transportable. Cue cupcakes. BUT they are still messy. I wanted to do away with the mess factor. Then I came across a recipe for
Red Velvet Ice Cream Sandwiches
on the
Tender Crumb
blog. Obviously I wasn't going to make the ice cream, but I could use the Red Velvet Cookie idea and sandwich it with awesome cream cheese icing like the all-time favorite Oatmeal Cream Pie - and that's exactly what I did!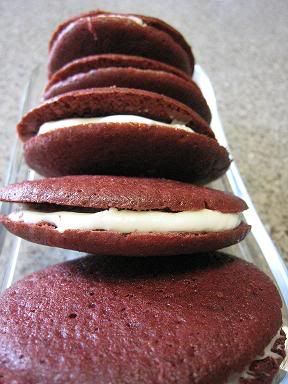 This recipe made quite a few, so Trisha kept one container, and shared the rest with some friends. As the first one was being eaten, he said ' These are awesome - you need to sell these all the time! Come up with a name!' It obviously started out as a joke, but over the next few days I was trying to figure out what I would call this concoction of mine, even though there were no intentions of selling them. And then it hit me... They were to be called the 'Little Deborah - a simply gourmet sandwich cookie'... A riff on Little Debbie snack cakes, and it made me laugh. Now I just need to work on other flavors. Carrot Cake w/Cream Cheese Icing and German Chocolate Cake w/ coconut/pecan icing are next on the list!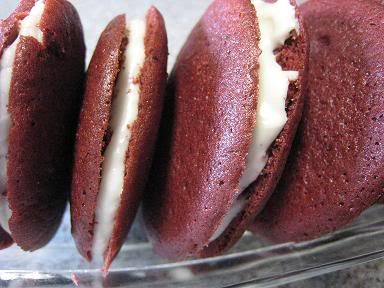 Red Velvet Cookies
adapted from Every Day w. Rachel Ray
makes approx 20 cookies
(I found that it makes a LOT more than 20 cookies, based on using the tablespoon cookie scoop)

Ingredients
1 1/4 cups flour
1 1/2 tbsn unsweetened cocoa powder
1/2 tsp baking soda
1/2 tsn salt
5 tbsp unsalted butter, at room temperature
3/4 cup granulated sugar
1 large egg
1 tbsn red food coloring
1 1/2 tsp pure vanilla extract
1/2 cup buttermilk
Directions
1. Preheat the oven to 350°. Line a baking sheet with parchment paper. In a medium bowl, sift together the flour, cocoa, baking soda and salt.
2. Using a mixer, beat butter with the granulated sugar until fluffy, 3 minutes. Beat in the egg, food coloring and 1 teaspoon vanilla. Beat in the flour mixture alternately with the buttermilk until smooth.
3. Place 1/4-cup scoops of batter 2 inches apart on the prepared baking sheet; spread out. Bake until a toothpick inserted in the center comes out dry, 12 to 15 minutes. Let the cookies sit for 5 minutes, then transfer to a rack to cool.
Cream Cheese Icing
Ingredients
1 (8 ounce) package cream cheese, softened
2 tablespoons butter, softened
4 cups confectioners' sugar
1 teaspoon vanilla bean paste (extract will also work)
2 tablespoons milk
Method
Mix the cream cheese with the butter, confectioners' sugar, vanilla extract, and milk in a bowl. Heat in a microwave for 15 seconds. Drizzle spoonfuls over the cooled cookies and smooth with the back of a spoon or a spatula.
(I added powdered sugar until the 'icing' was a little thicker. It's the same recipe I used for my
Pumpkin Cookies with Cream Cheese Icing
, but needed the consistency to be thicker so it wouldn't run out of the middle of the cookies. It needed to be more like Frosting than Icing, if that makes any sense at all...)

Enjoy!
NaBloWriMo
: Day 9