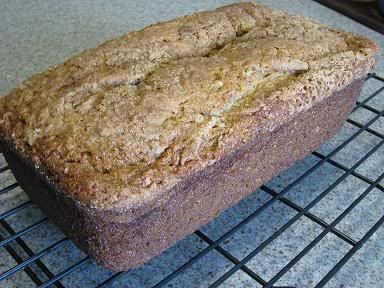 NaBloWriMo
: Day 2
So lately I've been making a LOT of banana bread...
1. It's EASY.
2. There are always bananas in my freezer (that's where I put them when they start going ripe - when they defrost you can use them for baking - they are perfect for it!)
3. I found a recipe that is a HIT and I modified it to make it a little healthier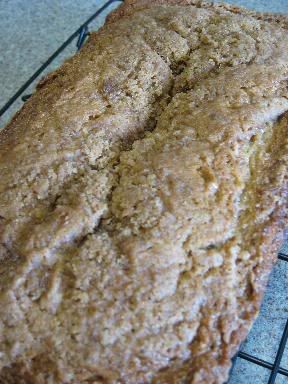 Banana Sour Cream Bread
from
Allrecipes
modified by ME!
Ingredients:
2 tablespoons splenda for baking
1 teaspoon ground cinnamon
1/2 cup butter
1/4 cup applesauce
1 1/2 cups splenda for baking
1 egg
3 egg whites
6 very ripe bananas, mashed
1 (16 ounce) container reduced fat sour cream
2 teaspoons vanilla extract
2 teaspoons ground cinnamon
1/2 teaspoon salt
3 teaspoons baking soda
3 cups whole wheat flour
1 1/2 cups all-purpose flour
Directions:
1. Preheat oven to 300 degrees F (150 degrees C). Grease four 7x3 inch loaf pans (or 2 normal size loaf pans). In a small bowl, stir together 2 tablespoons of splenda for baking and 1 teaspoon cinnamon. Dust pans lightly with cinnamon and sugar mixture.
2. In a large bowl, cream butter, applesauce and 1.5 cups of splenda for baking. Mix in egg/egg whites, mashed bananas, sour cream, vanilla and cinnamon. Mix in salt, baking soda and flour. Divide into prepared pans.
3. Top with streusel if desired (I always desire streusel! - Recipe below)
4. Bake for 1 hour, until a toothpick inserted in center comes out clean (or 1 hr 20 min for regular sized loaf pans). Make sure you do the toothpick test, right in the middle to ensure that it is baked completely through.
This recipe can be cut in 1/2 easily.
Streusel Topping recipe:
1/2 cup brown sugar
1/2 cup flour
2 tablespoons butter
1 teaspoon cinnamon
Mix together until crumbly.