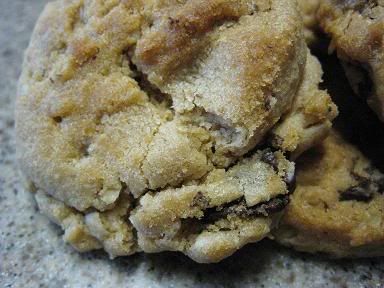 So once again I bring you Monday Munchies with a great cookie I sent along with last week's
Chocolate Toffee Cookies
to the troops last month as a part of
Operation Baking Gals
... This recipe came from
My Baking Addiction
, which I've mentioned on here before. It combines peanut butter and chocolate, along with enough oatmeal to allow you to pretend you're being healthy! Ha ha! And yes, they were as yummy as they look!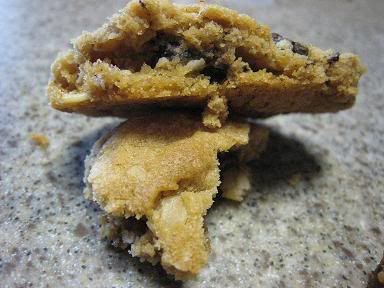 Oatmeal Peanut Butter Chip Cookies
Adapted from
My Baking Addiction
which adapted from
allrecipes
makes: about 18 cookies
Ingredients
1/2 cup butter
1/2 cup white sugar
1/3 cup packed brown sugar
1/2 cup peanut butter
1/2 teaspoon vanilla extract (I used Beanilla Vanilla Paste)
1 egg
1 cup all-purpose flour
1 teaspoon baking soda
1/4 teaspoon salt
1/2 cup rolled oats
1 cup peanut butter and chocolate swirl chips (your favorite chocolate chip will be just fine)
Method
1. Preheat oven to 350 degrees F (175 degrees C).
2. In a medium bowl, cream together the butter, white sugar and brown sugar until smooth. Stir in the peanut butter, vanilla and egg until well blended.
3. Combine the flour, baking soda and salt; stir into the batter just until moistened. Mix in the oats and chocolate chips until evenly distributed. Drop by tablespoonfuls on to lightly greased cookie sheets.
4. Bake for 10 to 12 minutes in the preheated oven, until the edges start to brown. Cool on cookie sheets for about 5 minutes before transferring to wire racks to cool completely.
NaBloWriMo: Day 23