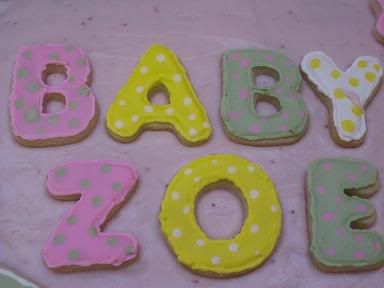 I've seen that people make these cookies, but I never thought I'd be one of those people. And while mine aren't perfect, they're getting better and better. Not to mention these taste pretty good as well! So much better than store bought, or even restaurant bought. You can see the rest of them I made on the post for the
Strawberry Cake
!
I must say that Bridget at
Bake at 350
has been a GREAT help when it comes to decorated sugar cookies! An invaluable resource (not to mention her cookies are AMAZING!!!). I'm posting the recipe for both the cookies and the royal icing here. Moving forward, I'll likely post all of the designs on Tuesdays, because once again, I've found a recipe that works - unless there is some great compelling reason to find another, I'm sticking with it!
Vanilla-Almond Sugar Cookies
Source:
Bake at 350
3 c unbleached, all-purpose flour
2 tsp baking powder
1 c sugar (I use sugar that I've stored vanilla beans in)
2 sticks butter
1 egg
1/2 tsp pure vanilla extract
1/2 tsp pure almond extract
Preheat oven to 350.
Combine the flour and baking powder, set aside. Cream the sugar and butter. Add the egg and extracts and mix. Gradually add the flour mixture and beat just until combined, scraping down the bowl, especially the bottom.
Roll onto a floured surface and cut into shapes. Place on parchment lined baking sheets and bake for 10-12 minutes. Let sit a few minutes on the sheet, then transfer to a cooling rack.
Royal Icing
(This will cover 2-3 dozen 3.5 inch cookies in 2 colors; I usually double this recipe.)
4 TBSP meringue powder
scant 1/2 c. water
1 lb. powdered sugar
1/2 tsp light corn syrup (optional)
few drops clear extract (optional)