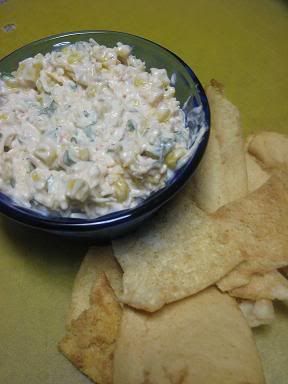 Last year I went to a party and my best friend Joanne brought this dip. Then on New Years Eve, I asked her to make it again. Then for this party, I decided I should just get the recipe and make it myself. And now so can all of you...
(This is another one that doesn't photograph well, but is really tasty!)
Corn Dip
2 cans MexiCorn or Fiesta Corn, drained
1 cup mayonnaise
16 oz sour cream
½ bunch of cilantro chopped
3-4 green onions, chopped
2 cups grated cheese
1 t cayenne
1 t cumin
1/4t lime juice
Mix and serve with Fritos (or celery). Best when made a day in advance and refrigerated. Serve cold.