This past weekend I was one of the hosts at the baby shower for one of my best friends, Courtney. Isn't she too cute!?!?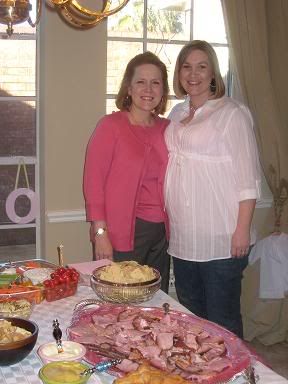 I am so happy and excited for her and can't WAIT to meet Zoe!! This shower was a big 'un... lots of people there to love on Courtney and share in the excitement of what's to come. And lots of people = lots of food! This is the spread we had: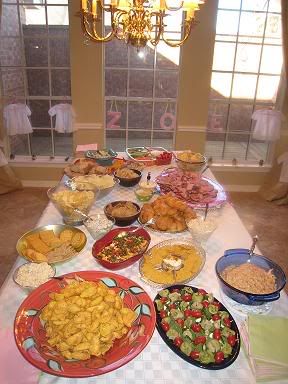 The things I made were:
Marinated Cheese
(served with crackers)
Chicken Salad
Caprese Picks
Caramelized Onion Dip
(served with crackers)
Corn Dip
(served with Fritos)
Strawberry Cakes
Sugar Cookies
Spa Water
(Each of the above are linked to their specific posts, which include the recipes...)
In addition to all of that, we also had:
Ham
Croissants
Dinner Rolls
Cream Cheese with Peppered Jelly (served with crackers)
Hummus and Pita Chips
Veggie Tray
Fruit Tray
There was definitely a lot of food, but a lot was eaten at the end of the day as well, which is always a good sign! Hope you enjoy the recipes...