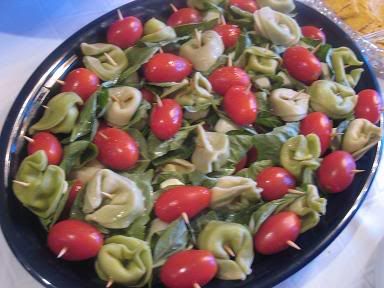 SO EASY. SO IMPRESSIVE. SO GOOD. I had seen a friend of mine make a caprese pick at another shower, and they were great, but then I had the idea to add a tortellini at the end. I LOVED these things!
Caprese Picks
1 bunch of fresh basil
1 small package of cheese tortellini
1 bunch of small pearl fresh mozzerella
2 packages of grape tomatoes
Olive Oil
Large Grain Salt (Sea Salt from a grinder or Kosher Salt)
Cook tortellini according to package directions and let cool. On a toothpick, layer one grape tomato, one side of a basil leaf, mozzerella ball, other side of basil leaf and top off with a tortellini. I alternated them on the plate for presentation purposes and then drizzled them with olive oil and sprinkle them with salt - that's it! So easy and somewhat healthy for you too!