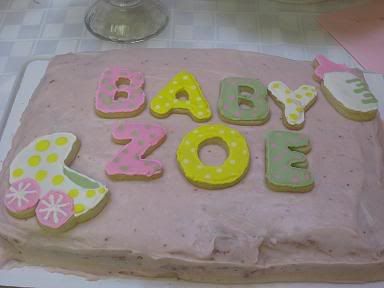 Some people enjoy making multiple variations of the same recipe even if they've found one that they absolutely love. I'm not one of those people. When I find a winner, I stick with it. I have a winner for my carrot cake and now I have a winner for a strawberry cake! It's PHENOMENAL. Of course most stuff from Paula Deen usually is! I made this cake for both Courtney's shower and Meredith's shower - they're both having little girls, so it's PERFECT!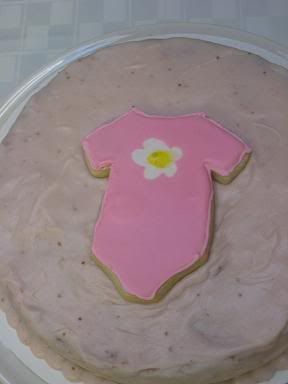 Simply Delicious Strawberry Cake
Recipe courtesy
Paula Deen
Prep Time:15 min
Inactive Prep Time:10 min
Cook Time:20 min
Level:Easy
Serves:
8 servings.
Ingredients
•1 (18.25-ounce) box white cake mix
•1 (3-ounce) box strawberry-flavored instant gelatin
•1 (15-ounce) package frozen strawberries in syrup, thawed and pureed (I used frozen strawberries for smoothies, etc. rather than in syrup - the extra sweetness is not necessary)
•4 large eggs
•1/2 cup vegetable oil
•1/4 cup water
•Strawberry Cream Cheese Icing
•1/4 cup butter, softened
•1 (8-ounce) package cream cheese, softened
•1 (10-ounce) package frozen strawberries in syrup, thawed and pureed (once again I don't use the strawberries in syrup)
•1/2 teaspoon strawberry extract
•7 cups confectioners' sugar
•Freshly sliced strawberries, for garnish, optional
Directions
Preheat oven to 350 degrees F. Lightly grease 2 (9-inch) round cake pans.
In a large bowl, combine cake mix and gelatin. Add pureed strawberries, eggs, oil, and water; beat at medium speed with an electric mixer until smooth. Pour into prepared pans, and bake for 20 minutes, or until a wooden pick inserted in the center comes out clean.
Let cool in pans for 10 minutes. Remove from pans, and cool completely on wire racks.
For the icing:
In a large bowl, beat butter and cream cheese at medium speed with an electric mixer until creamy. Beat in 1/4 cup of the strawberry puree and the vanilla extract. (The rest of the puree is leftover but can be used in smoothies or on ice cream for a delicious treat.) Gradually add confectioners' sugar, beating until smooth.
Spread icing in between layers and on top and sides of cake. Garnish with sliced fresh strawberries, if desired.
These cakes were decorated with
sugar cookies
that I made. See other post for details!