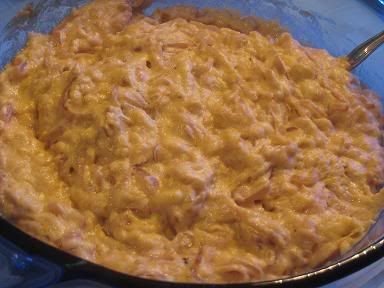 This is a dish that I somewhat made up on my own... I wanted a hot dip, and I wanted caramelized onions. Most of the recipes I found were for cold dips, or the onions weren't caramelized, so I threw in a little of this, and a little of that. While it doesn't look too good, it tasted awesome!
Baked Caramelized Onion Dip
2 Yellow Onions
1 TBSP olive oil
2 pkg softened cream cheese (I used 1/3 less fat)
1 cup mayo
Sprinkle of cayenne (adjusted for your heat preference)
1 cup monterrey jack cheese, shredded (shred your own if possible - it melts better!)
1/2 cup parmesan cheese
Chop onions into small pieces (but not minced, that's too small) and heat olive oil in a skillet. Cook onions over LOW heat for about 20 minutes until they are caramelized. While the onions are cooking down, mix the crean cheese, mayo and cayene with a mixer until smooth. Fold in cheeses gently. Once the onions are done cooking, let them cool for a bit and then fold them into the cheese mixture as well.
Bake at 350* for 30 minutes. Serve warm with crackers or pita chips.