Ok, so this doesn't look too pretty, but it sure as heck tasted good! And the best part is that it was so stinkin' easy to throw together. Obviously needs to be served with crackers...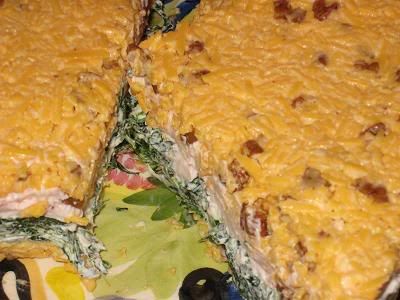 Yield
Makes 25 appetizer servings
Ingredients
1 (10-ounce) package frozen chopped spinach, thawed and drained
2 (8-ounce) blocks sharp Cheddar cheese, shredded
1/2 cup chopped pecans, toasted
1/2 cup mayonnaise
2 (8-ounce) packages cream cheese, softened and divided
1/4 teaspoon salt
1/2 teaspoon freshly ground pepper
1/4 cup strawberry preserves
Garnish: toasted chopped pecans
Preparation
Line a 9- x 5-inch loafpan with heavy-duty plastic wrap.
Press spinach between layers of paper towels to remove excess moisture; set aside.
Stir together Cheddar cheese, pecans, and mayonnaise; spread half of mixture evenly into prepared pan. Stir together spinach, 1 package cream cheese, salt, and pepper; spread evenly over Cheddar cheese layer. Stir together remaining package cream cheese and strawberry preserves; spread evenly over spinach layer. Top with remaining Cheddar cheese mixture. Cover and refridgerate or freeze up to 1 month. Thaw in refrigerator overnight. Garnish, if desired, and serve with assorted crackers.
Prep: 15 min., Thaw: 8 hrs.
To make two loaves, use two(7- x 3-inch) loafpans. Mix ingredients as directed; divide mixtures in half, and follow layering procedure for each loaf.