Here are a few thoughts from this past week...
- I have been really convicted about texting while driving thanks to
this
video. If you haven't watched it, please take 5 minutes and do so. I'm leaving my phone alone now while driving. I'll check it at red lights if I need to (meeting up with someone, etc.), but will not be typing/reading while driving anymore. It was a bad habit to begin with, but seeing that video really drove it home...
- My workout plan has gone a *little* better this week. I did a double shot of Jazzercise on Monday, didn't do anything on Tuesday (out of town), Jazzercise on Wednesday, started Thursday and today didn't go so well... My goal is to make it to the EARLY classes next week - my day goes so well when I do, not to mention traffic was killer this week with everyone back on the roads - ugh!
- I declared war in my pantry on Sunday. I got attacked by the
red flour beetle
. They had taken up residence without my consent - and they were being evicted! So I had to pull EVERYTHING out of my pantry. EVERYTHING. I cleaned it all, found the source(s) of habitation and threw away anything that might be a problem. I left all of my pantry contents out for a couple of days, spread out on every counter surface in my kitchen. In the process I realized I have way too much food - HELLO WEIGHT ISSUES! Ha! I finally reorganized and put it all back together on Tuesday night - and lo and behold - I had more room! I was able to put all of the bags of chips that I save for YL events on a shelf, and still have more than 1/2 a shelf empty - I was proud! Here's what it looked like when I was done...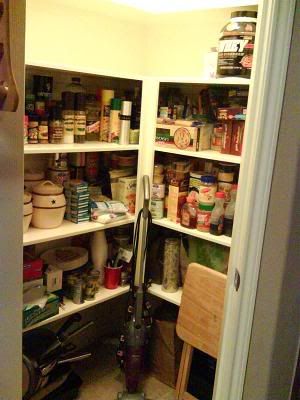 - I'm excited about things coming up this 'semester' - now that I'm working with high school friends, my life once again works according to the school calendar. Young Life had our kick off meeting, which was a lot of fun, and Beth Moore's fall bible study at Houston's First Baptist Church starts on the 8th. She's covering the book of revelation this fall, if you're interested in joining us, just let me know. As of right now, there are 3 of us (myself, Courtney and Joanne), and we would love to have you!
- I'm once again in the midst of a friend baby explosion! I love it! Can't wait to meet these little munchkins...
Ok, I think that's enough rambling for now... y'all have a great weekend!