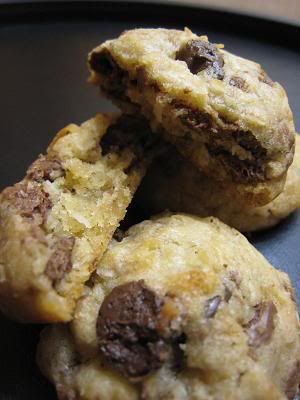 And...we're back! Here we are with the first ever Monday Munchies - I really hope that having a plan helps me to get back into the swing of blogging. Blogging random things just didn't work for me - either I just rambled on and on about things no one cares about, or I was so sporadic that no one really came back to check this thing... hopefully it'll be different this time, and hopefully I post stuff you're actually interested in!
Today's recipe are for some cookies that I've dubbed 'Almond Joy Cookies'. I made them for my
Young Life
girls for a recent trip we took to the Hill Country and they were gobbled up! I got the recipe from Jamie at
My Baking Addiction
- one of my favorite recipe blogs! Her recipe was for
Coconut Pecan Chocolate Chip Cookies
, but I left out the pecans because I didn't know if anyone had nut allergies. And I used milk chocolate in place of semi-sweet/bittersweet. So when I bit into it, it tasted much like an Almond Joy after you've picked off the chocolate-covered almond on top and are eating just the little bar... Yum!
Almond Joy Cookies
Adapted from My Baking Addiction
Yields 4 dozen cookies (if you make them small)
Ingredients
2 cups + 2 TBSP all purpose flour
1/2 tsp baking powder
1/2 tsp salt
12 TBSP unsalted butter, melted and cooled until warm
1 cup packed brown sugar
1/2 cup granulated sugar
1 large egg
1 large egg yolk
1 tsp vanilla
1 1/2 cups chocolate chips (I used chopped milk chocolate)
3/4 cup sweetened flaked coconut
Nuts optional - add one almond on top for the full effect of an Almond Joy, or add in a cup of pecans to follow the original recipe
Directions
1. Preheat oven to 350*F
2. Cover cookie sheets with parchment paper, or use a well worn baking stone
3. Mix flour, baking powder and salt in a bowl and set aside
4. Mix butter and sugars with a mixer until blended and smooth. Add egg, egg yolk & vanilla and mix until fully incorporated.
5. Add dry ingredients and mix until just combined.
6. Stir in chocolate, coconut and nuts if desired.
7. Using a medium cookie scoop, scoop out dough and place on cookie sheets.
8. Bake for 12-18 minutes (mine took 14 minutes and because they were smaller than the original recipe).
9. Cool on cookie sheets to maintain texture.
I hope you enjoy these as much as me and my girls did...
Have a wonderful day - hope you find many reasons to smile!
-Reneé