Ok, so there will now be multiple 'Monday Munchies' posts because I have so many recipes in the backlog. I'd never get them all posted if I only post one per week. I don't think I'll hear a lot of complaints though!
So here we go with the first one... I had a group of Young Life leaders over to the house yesterday to hang out, eat way too much, etc. We had a really good time. I set up a Burger Bar and had a variety of toppings and then for dessert I set up a Gourmet Smores Bar... it was a lot of fun!
For the burger bar I had all of the traditional condiments along with queso, chili, sauteed mushrooms, caramelized onions, feta cheese, gorgonzola cheese, avacado, pico, guacamole, pesto, sundried tomato pesto, cilantro, BBQ sauce, colby jack cheese, cheddar cheese, and other stuff that I just can't recall right now... But there were so many options you didn't know where to start. Most of the guys made two burgers and most of the girls cut one burger in 1/2 and made two burger versions... It was a hit, and pretty easy to do overall...
For the Gourmet Smores Bar, I had graham crackers (which ended up being bad, so we used shortbread cookies instead!), regular marshmallows and caramel/vanilla swirl marshmallows, reese's peanut butter cups, almond joy, special dark and regular hershey bars. It was fun - most people hadn't ever stepped out of the box in regards to smores, but now they have!
But the hit of the day were the homemade hamburger buns, aka Honey Wheat Sandwich Rolls. They were SO good! I'm excited to eat the leftovers all week! I got the
recipe
from
Annie's Eats
, and she got them from
Good Things Catered
. I HIGHLY recommend making them. If you have a stand mixer, these are a breeze to put together!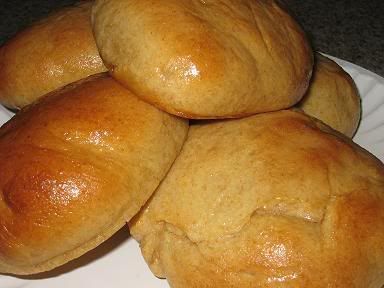 Honey Wheat Sandwich Buns
Printer-Friendly Version
Yield: 9-10 sandwich buns
Ingredients:
1 1/4 cups milk, warmed
2 1/4 tsp. instant yeast
2 cups bread flour, plus 1/4-1/2 cup more for adjusting as needed
1 cup whole wheat flour
1/2 tsp. salt
1 egg, at room temperature
1/4 cup honey plus 1-2 tbsp., divided
2 tbsp. butter, melted
Sesame seeds (optional)
Directions:
Measure out the milk in a liquid measuring cup. Add in the instant yeast and stir to dissolve. In the bowl of a stand mixer fitted with the paddle attachment, combine the bread flour (2 cups), wheat flour and salt. Mix briefly on low speed to combine. Add the yeast-milk mixture, egg, and 1/4 cup of honey to the mixer bowl and mix on low speed just until a dough has formed. Switch to the dough hook. Continue kneading on low speed with the dough hook until the dough is smooth and tacky but not sticky, adding extra flour 1-2 tablespoons at a time as needed until the dough clears the sides of the bowl and has the desired consistency. Transfer the dough to a lightly oiled bowl, turn to coat, and cover with plastic wrap. Let rise until doubled in bulk, about 1 1/2-2 hours.
Once the dough has risen, transfer the ball to a lightly floured work surface and gently deflate the dough. Divide the dough into 9-10 equal sized pieces (if using a kitchen scale to achieve uniform size, make 3.25-3.5 oz. pieces). Form each piece of dough into a flattened round, 3.5-4 inches in diameter. Transfer the shaped rounds to a parchment- or silpat-lined baking sheet. Cover with a clean kitchen towel and let rise until nearly doubled, about 1 hour.
Preheat the oven to 350° F. Combine the melted butter with 1-2 tablespoons of honey and lightly brush the tops of the rolls. Sprinkle with sesame seeds if desired. Bake for 14-15 minutes, rotating the pan halfway through baking, until golden brown and baked through. Let cool on the baking sheet for 5 minutes, then transfer to a cooling rack to cool completely.