Ok... last one for today!
A couple of weekends ago, my favorite little man, Ashton, spent the night with me. Ashton is the son of one of my very good friends, and I have watched him grow up since we knew he was coming into this world. I love having him over, so when his mom called and asked if I was free (which I very rarely am), I jumped at the chance because I actually had an open night on my calendar!
So I picked him up from school on Friday afternoon and we picked up some pizza (his dinner choice, of course), made a quick stop by the grocery store, and then onto the house... We were going to an outdoor movie in my neighborhood, Coraline in 3D, and I wanted to bake up some goodies for him to take with him. After looking through some blogs, and having an over-abundance of oatmeal, I decided on these
bars
. I found them on the
Columbus Foodie
blog, which is another one that always seems to have great recipes!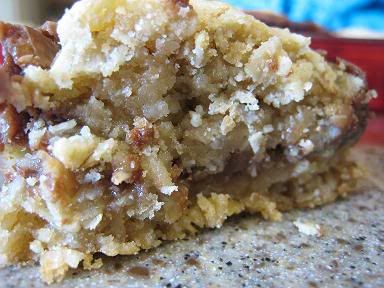 Butter Pecan Oat Bars with Chocolate Filling
recipe courtesy About.com

6 ounces butter (1 1/2 sticks), softened
3/4 cup dark or light brown sugar, packed
2 large eggs
2 teaspoons vanilla
1 box (18 ounces) butter pecan cake mix (I used vanilla, because it's what I had on hand)
2 1/2 cups old-fashioned rolled oats

**Filling**
1 can (15 ounces) sweetened condensed milk
1 package (12 ounces) semisweet chocolate chips
Pinch salt
2 teaspoons vanilla
1 tablespoon butter
1 cup chopped pecans

Preparation:
Heat oven to 350°. Grease and flour a 9×13x2-inch baking pan.

Beat 6 ounces of butter with the brown sugar until light; beat in eggs and 2 teaspoons vanilla. Slowly beat in the cake mix and rolled oats until well blended.

In a saucepan, combine the sweetened condensed milk with chocolate chips, a pinch of salt, and 1 tablespoon butter. Cook over medium-low heat, stirring frequently, until chocolate chips are melted and mixture is smooth. Stir in the chopped pecans.

Spread about 2/3 of the cake batter in the prepared pan. Spoon filling over the cake layer and spread to cover. Pinch pieces of the remaining batter and arrange the pieces evenly over the filling.

Bake for 25 to 30 minutes, until nicely browned and firm.