Ok - it's day 2! It's late...but I'm back! There's some commitment!
Music Dabble:
I'm starting with this because lately it's rocked my world. Seriously. I went with a few friends and saw
Sean McConnell
at a bar in The Woodlands called Dosey Doe's, which is a bar/gourmet restaurant/coffee house all in one. (Sidenote: the coffee is A-MA-ZING! I want some right now!) The history of the building is really neat and it has some GREAT acoustics. Anyways... it ended up being a full band acoustic show, and I'd never seen them that way. I've loved his acoustic shows and loved the full band shows, but was really excited to see the stripped down full band show.
And it did not disappoint one little bit! It ranks as one of the top 5 shows I've EVER seen. I'm not kidding - I could talk your ear off about some of the shows I've been lucky enough to be a part of, and this was one of the 'magical' ones. I was AMPED when I left, when I woke up the next day and for the days that followed. Mainly because of a new song Sean sang called 'Praise the Lord'.
Sean's not a Christian-artist, but he's definitely a Christian and that shines through in the music he writes. Which means a lot to me because my Christian faith is my foundation and really important to me. He prefaced the song by telling us that it was about finding out what religion and a relationship with God really meant. I knew exactly what he was talking about as it was a process I went through in my late 20's. So this song struck a STRONG chord with me. I can't share the actual song with you as it's not on a CD yet, but
HERE IS THE LINK TO A VIDEO
- please, please, please check it out. It's just a small slice of his mastery when it comes to lyrics. If it's something that interests you, I urge you to check out more of his work - I'm floored by his talents...
Recipe Dabble:
Speaking of the Sean McConnell crew, they are often the recipients of what I create in the kitchen, for a few reasons.
1. They travel in a van. 5 guys, 1 van, 1 trailer. And they are making the run from TN to TX more and more often. So I try to 'sweeten' the trip when possible!
2. It gets it out of my kitchen.
3. They appreciate it - and let me know that they are always up for goodies!
As a side note, the other most common recipients of my kitchen creations are Wade Bowen's guys - they love and appreciate it too!
And last week - I got to see BOTH of my bands! That called for some work in the kitchen! So I made their favorite, my banana bread. I've posted the
healthy version of my banana bread
in the past, but some have requested the 'regular' recipe, which is what I have been making for these guys. I made it in muffin form last week because it was easier to split that way, and it only took 20 minutes to bake, rather than an hour and a half with 2 loaves! So here's the recipe - sorry for the shoddy cell phone picture!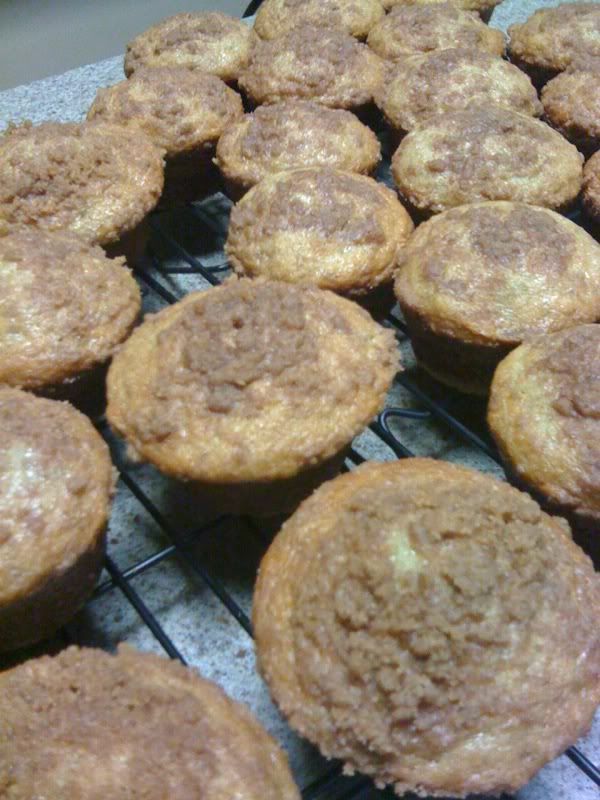 Ingredients
1/4 cup white sugar
1 teaspoon ground cinnamon
3/4 cup butter
3 cups white sugar
3 eggs
6 very ripe bananas, mashed
1 (16 ounce) container sour cream
2 teaspoons vanilla extract
2 teaspoons ground cinnamon
1/2 teaspoon salt
3 teaspoons baking soda
4 1/2 cups all-purpose flour
1 cup chopped pecans (optional)

Directions
1. Preheat oven to 300 degrees F (150 degrees C). Grease four 7x3 inch loaf pans. In a small bowl, stir together 1/4 cup white sugar and 1 teaspoon cinnamon. Dust pans lightly with cinnamon and sugar mixture.
2. In a large bowl, cream butter and 3 cups sugar. Mix in eggs, mashed bananas, sour cream, vanilla and cinnamon. Mix in salt, baking soda and flour. Stir in nuts. Divide into prepared pans. Top with streusel (recipe below).
3. Bake for 1 hour, until a toothpick inserted in center comes out clean.
(Makes ~32 muffins, bake for 20 minutes; or 2 regular loaf pans, bake for ~90 min, start checking at 75 min)
Streusel Topping recipe:
1/2 cup brown sugar
1/2 cup flour
2 tablespoons butter (maybe a little more...)
1 teaspoon cinnamon
Mix together until crumbly.
Fitness Dabble:
Another 3 mile loop today! I need to get to the GYM. My strength training is seriously lacking. I think I'll hit it up tomorrow and Sunday this weekend... But overall, I've done something almost every day, and that's an improvement over last week. I'll take gradual improvements! My food has been pretty much spot-on, so that's good.
That's enough dabbling for today, more to talk about, but I'll save it for later!