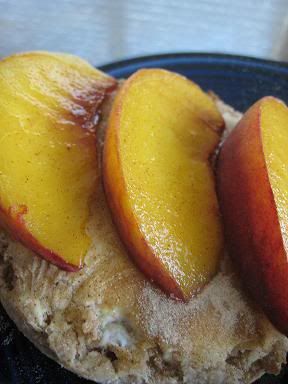 The other morning I was wanting something tasty for breakfast, but didn't want one of my 'regular' breakfasts. (i.e. scrambled egg whites + spinach + laughing cow, greek yogurt + honey + cereal, green monster, steel cut oats, etc.). I wanted something different...
So I opened my fridge and peered in and what did I see? 3 peaches that needed to be eaten in the next 3 days and left over cream cheese from making something a couple of weeks ago. I turned to the counter and saw the whole wheat english muffins I had purchased and knew I had some cinnamon sugar mixture in the pantry.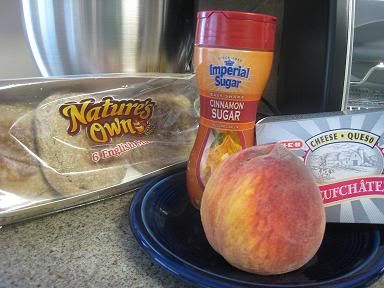 And an idea was born. And that idea yielded something tasty and made me happy all the way around, so I thought I'd share. It's simple and barely qualifies as a 'recipe' but at least it counts for another blog post! Ha ha...
I took an english muffin and lightly toasted it in my new Toaster Oven. (I just got this at Kohl's which has become my absolute FAVORITE store - I love the deals I get there... Sale + XX% off + Kohl's Cash make me very happy! I ended up getting this $100 toaster oven for ~$35.00 (it was on sale for $59.99 and I had a 30% off coupon plus store credit for something I returned... yes please!)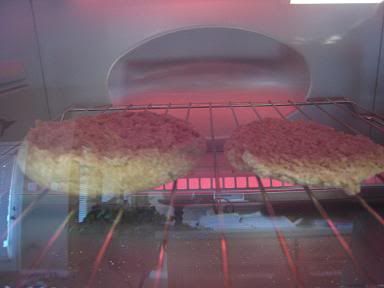 Once the english muffin is slightly toasted, spread liberally with cream cheese (I used reduced fat because I had it on hand from baking - I think this would work great with fat free as well though!) Sprinkle with cinnamon sugar mix (you can make your own, but the mix uses super fine sugar that melts more quickly, so I prefer it). Slice 1/2 a peach into 6 slices. Layer on english muffin. Sprinkle with cinnamon sugar mixture lightly. Place back in toaster oven on 'light toast' setting and wait for the 'DING!'
Then sit down with a cup of coffee (or iced coffee if where you're living hasn't gotten the memo that it's now officially FALL!! Hi Houston!) and sink your teeth into a breakfast that could honestly be a dessert. A little creamy, a little fruity and lot yummy!
Enjoy!