Now that my friend Meredith's little girl Morgan is almost 6 months old, I figured it was time to post some of the goodies from her shower. They're LONG overdue, but alas, here they are... (que sounds of Holly and Meredith rejoicing! Ha ha!)
For the shower I decided to just keep it simple and do desserts - we were on a sugar overload at the end of it, but it sure was tasty!
The menu included:
Strawberry Cake with Strawberry Cream Cheese Icing
(Somehow I didn't get a pic of this cake, but was as tasty as always - my go-to strawberry cake for sure!)
Mini Chocolate Chip Cheesecake Ball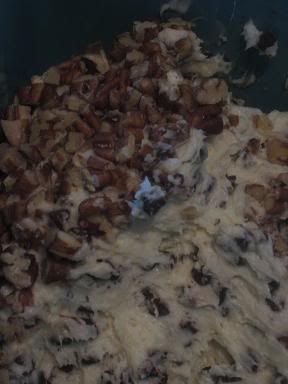 (I'm sorry the picture is so bad - I didn't realize it was that dark until it was too late for a re-do. But regardless of what it looks like, it tastes AWESOME and that's what really matters!)

Recipe:
1 (8-ounce) package cream cheese, softened
1/2 cup butter, softened
3/4 cup confectioner's sugar
2 tablespoons brown sugar
1/2 teaspoon vanilla extract
3/4 cup mini semisweet chocolate chips
3/4 cup finely chopped pecans

In a medium bowl, beat together cream cheese and butter until smooth. Mix in confectioner's sugar, brown sugar and vanilla. Stir in chocolate chips. Cover, and chill in the refrigerator for 2 hours.

Shape chilled cream cheese mixture into a ball. Wrap with plastic, and chill in the refrigerator for 1 hour or overnight.

Roll the cheese ball in finely chopped pecans before serving. Serve with graham crackers.

Peanut Butter Bars

(Somehow this is another picture that eluded me, but boy howdy these were so 's-o g-double o-d' good (name that jingle). If you have a peanut butter lover in your life, do not pass go, do not collect $200 - make these now and secure their love FOREVER!) The recipe can be found HERE.

Brownie Pops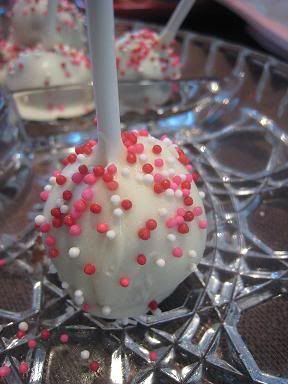 These were pretty basic - I mixed baked brownies with some chocolate ganache I had left over from another project. Shaped them into balls, stuck a stick in them and put them in the freezer while I melted the chocolate coating. Dipped them when it was ready and added sprinkles. These were a chocolate lovers delight!

Dipped Pretzels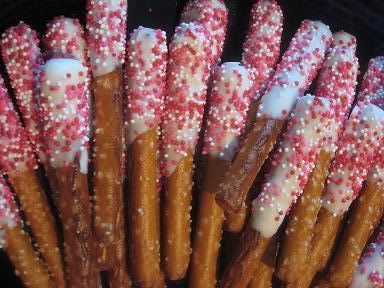 It's as easy as it looks - used the rest of the melted chocolate from the Brownie Pops and added sprinkles when they were done. Voila!


Decorated Sugar Cookies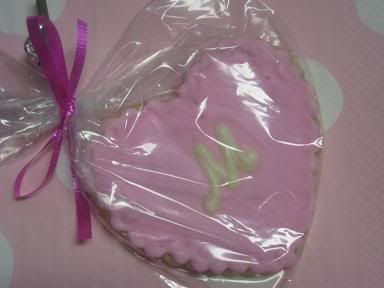 A simple cookie with Morgan's initial were the party favors...
Another successful shower! Complete!
Hope y'all enjoy. Hopefully I'll be back sooner vs later!