A new post - two days in a row! Stop the presses!
We had stamp camp this weekend and I had a great time... thought I would share some of the projects!
First of all, I won one of the door prizes (actually two, but the other one is a stamp, not a project). Anyways - this pumpkin is made by punching 6 1" circles and then folding them in half, gluing them to each other and then to the project. How cute is that?!?! The curls are made of paper too and are simply VERY thin strips of paper that were curled around a pencil to give them their shape. Super easy, super impressive = my kind of project! Love it! (It's filled with a bunch of scallopped shapes that I can use in other projects - good scraps to have on hand!)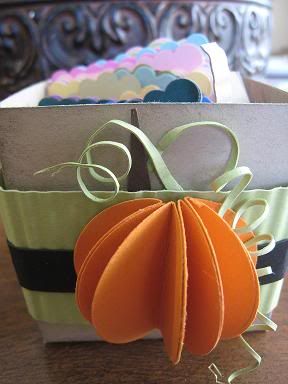 And now for the Thanksgiving cards:
This one is pretty simple - just stamping, layering and ribbon placement to cover up where they meet. Easy enough!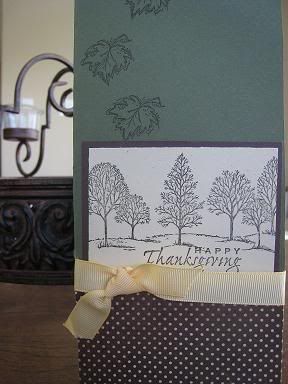 This one is my favorite one of the day - I love all of the colors together. When I was stamping it, I was a little leary, but when I saw it start to come together, I loved it! I think I lost a button from the upper right side of the tree - I need to look in my bag to see if it fell off...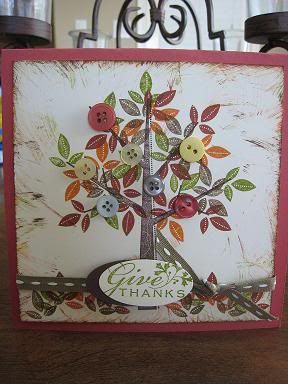 This one is kinda funny - the flower is actually made from pages of a Twilight book - let's just say it was salvaged from the trash can for good reason! ha ha! I actually did this type of flower for a baby shower invite and then for a general card this summer - I'll post pics of those soon, but it's a simple set of die cut flowers that you layer and then 'fluff' to get the flower effect.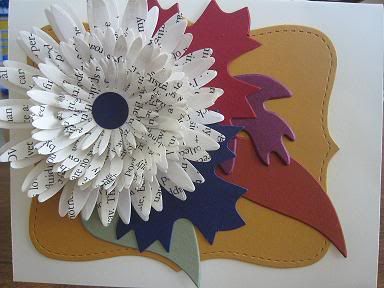 I like this one a lot too - we used the masking technique and then watercolor painted the pumpkins and leaves. Also neat was that the words came from a wheel that my SU Demo cut off of the wheel and then in half to be able to use it in more ways than just in 'wheel form'. Not all wheels lend themselves to this, but this one was perfect for it! Love the versatility! I also love this stamp set (Autumn Blessings?), but I know I won't use it enough to purchase it. I have a hard enough time making Christmas cards, no way I can make Thanksgiving cards too!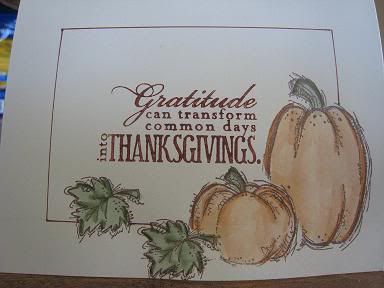 This one was just an easy card that took less than 5 minutes to make. Gold embossing, a little bit of punching and then putting it together... Easy enough!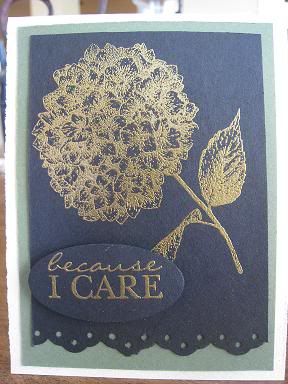 My SU Demo and another friend of mine that's also a SU Demo both have websites I thought I'd share - feel free to click on over for ideas, etc.
Dorothy - just getting started... mainly info for now, but will have ideas, etc posted shortly! And if you want to come to stamp camp with me (in NW Houston), let me know - we'd love to have you!
Kaitlin - lots of ideas lately, including a REALLY cute way to make a pumpkin without stamps!
And that's it for this time... I'm going back through my picture files to see what I missed over the past few months and I'll get some more posts up...