Ok, so it seems from what I've posted so far that the majority of my work in the kitchen revolves around stuff that isn't exactly good for you. That's not entirely true though, it's just that the sweet stuff is a lot more fun to photograph and talk about.
Within the past year I came across a really simple salad that is healthy, easy and tastes good - I call it a Asian Slaw Salad.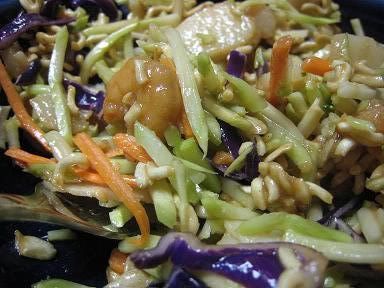 Ingredients:
1 bag of broccoli slaw
1 package of ramen noodles, oriental flavor
1/4c sunflower seeds
1/4c Reduced Fat Toasted Sesame Asian Dressing
Protein of choice (I usually sauté some shrimp or chicken in soy sauce and sesame oil)
Mix the broccoli slaw and sunflower seeds. Sprinkle with the oriental seasoning from the ramen noodles. Drizzle dressing on top and mix thoroughly. Crush up the ramen noodles and place them, along with the protein, on top of the salad.
Enjoy!
P.S. Put the ramen noodles on right before eating or they lose their crunch, and their purpose, in the salad. This is especially helpful if you're taking the salad as leftovers...